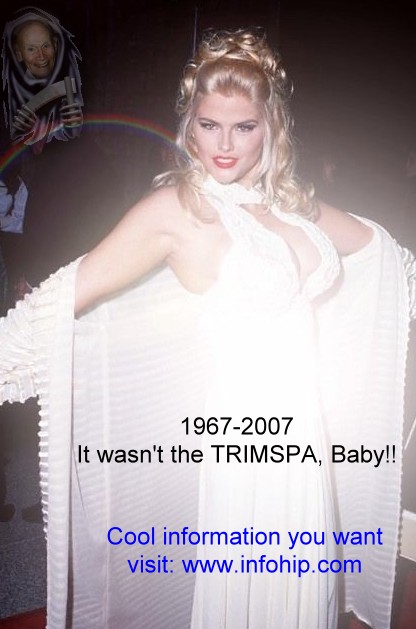 Anna Nicole Smith's Grim Reaper wasn't the Trim Spa, Baby.
We here at infohip.com foresee the months upon months about it was the ephedra that got her. Come on people it wasn't the trimspa.
We realize this is in poor taste.
You're sense of humor volume control has to be turned to 11 to enjoy.
Copy and Paste the code below to post this picture
on your website or profile page like MySpace, etc.

Subscribe to funnyemailforwards
Join my Funny Email Forwards mailing list. I will send you the funniest stuff I have found on the Net. There might be some adult content, so you must be at least 18 to join. I promise nothing will be too gross.
Click here for more forwards!!
Click here to return to infohip.com home for forwards, cool information, lose fat for spring break, hangover cures, Napster-like programs, find a job, attracting the opposite sex, drinking games, health and hard bodies, making money, search engines, the shopper, cool links, and much more.